Welcome to the home of Max the SV-ROS entry into the 2016 Nasa Sample Robot Return Challenge.
While we made our run. First one to do the level 2 attempt over the Labor Day weekend 2016.
We came really close to being in the money. Overall got 2nd place by getting 3 points on the platform.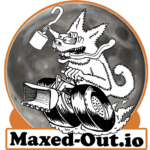 We might even had been in the money if WPI put the pre-cache where they said they were going to.
To give you an idea of what an achieve this was/is for our team.
Team Maxed-out:
did better than 40+ other teams that attempted this challenge.
beat teams that had 5 years of experience we only started this last year.
had no funding and built two bases from the ground up, and got second place.
did this with really only 4 people part time, we all have day jobs not related to robots.
used only open sourced software and common hardware.
Now trying to figure out what to do with the 2 bases we have. If you have any ideas please let us know.
Sincerely,
Check out our Video from the Event. Thanks Girts.